KAWS Hot Air Balloon Takes Flight Over Melbourne Skyline
KAWS: HOLIDAY MELBOURNE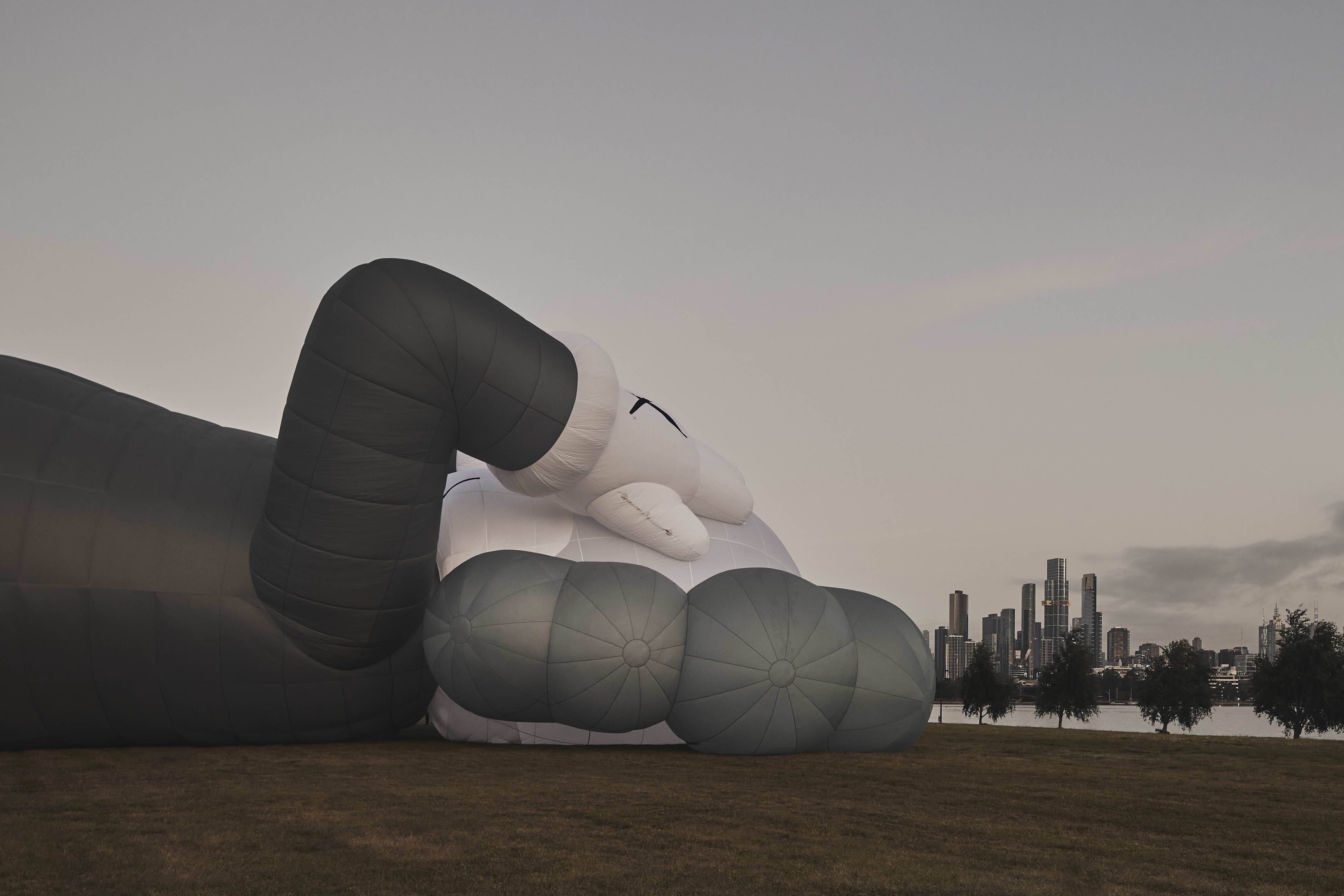 2 December 2022: At dawn on Wednesday 30 November, a 42-metre-tall hot-air balloon created by New York-based contemporary artist KAWS sailed over Melbourne's iconic skyline. Entitled KAWS:HOLIDAY MELBOURNE and presented exclusively in Australia by the National Gallery of Victoria (NGV) in collaboration with creative brand AllRightsReserved, the one-off, sunrise flight launched from Albert Park Lake and floated majestically over the Melbourne city skyline, past the NGV and over the Yarra River.
The spectacular voyage of KAWS:HOLIDAY MELBOURNE is the first time the balloon has taken flight in the Southern Hemisphere. The KAWS:HOLIDAY world tour has previously featured installations and exhibitions by the artist and AllRightsReserved in Seoul, Taipei, Hong Kong, Japan, Singapore, United Kingdom, Changbai Mountain and even outer space. KAWS:HOLIDAY MELBOURNE is the ninth stop in the KAWS:HOLIDAY series. ​
The airborne work takes the shape of one of the artist's iconic characters, COMPANION. After leaving his mark on the New York graffiti scene and his position as an animator for cartoons and films, KAWS began to create his own set of characters that appropriate and subvert the visual language of pop-culture icons. COMPANION first appeared in the artist's graffiti works across New York City in the mid-1990s.
In 2019, the NGV, the most visited and oldest public art institution in Australia, staged KAWS: Companionship in the Age of Loneliness, the first-ever presentation of the artist's work in Australia. A comprehensive survey of KAWS'practice over 25 years, the exhibition showcased the full range of the artist's creative output through more than 100 works, including paintings that reappropriate pop-culture figures and a monumental seven-metre-tall bronze sculpture titled GONE that is now permanently housed at the NGV.
Tony Ellwood AM, Director, NGV, said: 'Brian Donnelly, better known as KAWS, is one of the most prominent contemporary artists of his generation. His body of work straddles the worlds of art, fashion and culture to include paintings, murals, large-scale sculptures, street and public art. His work is infused with humour, humanity and affection for contemporary life.'
SK Lam, the founder of AllRightsReserved, said: 'The popping-up of KAWS:HOLIDAY aims to create an unexpected experience for the public and hopes to inspire travellers to see new corners of the Earth. After the journey from land to sea and space, we are excited to take COMPANION to the skies and connect art lovers in all places.'
Admired for his larger-than-life sculptures and colour-filled paintings, KAWS' cast of hybrid cartoon characters are drawn from pop-culture animations and form a distinctive artistic vocabulary.
KAWS: HOLIDAY MELBOURNE was organised by AllRightsReserved in partnership with the National Gallery of Victoria. AllRightsReserved is a creative brand and long-term partner of KAWS.
---
About KAWS
KAWS engages audiences beyond the museums and galleries in which he regularly exhibits. His prolific body of work straddles the worlds of art and design to include paintings, murals, graphic and product design, street art, and large-scale sculptures. Over the last two decades, KAWS has built a successful career with work that consistently shows his formal agility as an artist, as well as his underlying wit, irreverence, and affection for our times. His refined graphic language revitalizes figuration with both big, bold gestures and playful intricacies. KAWS (b. 1974, Jersey City, New Jersey; lives and works in Brooklyn, New York) has exhibited extensively in renowned institutions around the world.
About AllRightsReserved
Established in 2003, creative brand AllRightsReserved (ARR) reaches out to wherever creativity occurs.
ARR has designed and organized numerous bespoke branding and marketing solutions for leading international labels. Projects throughout Asia have regularly commissioned the studio in their respective cities.
ARR is a long-term partner of world-renowned artist KAWS. From KAWS:PASSING THROUGH dating back to 2010, "KAWS:HOLIDAY" is the most recent ongoing project since 2018, after its first stop in Seoul, Korea (July 2018) passing through Taipei, Taiwan (January 2019), Hong Kong (March 2019), Tokyo, Japan (July 2019), Bristol, United Kingdom (May 2021), Singapore (November 2021), Changbai Mountain (January 2022) and even outer-space (August 2020), generating huge excitement and crowds of art lovers. ​ ​ ​