Melbourne Design Week 2022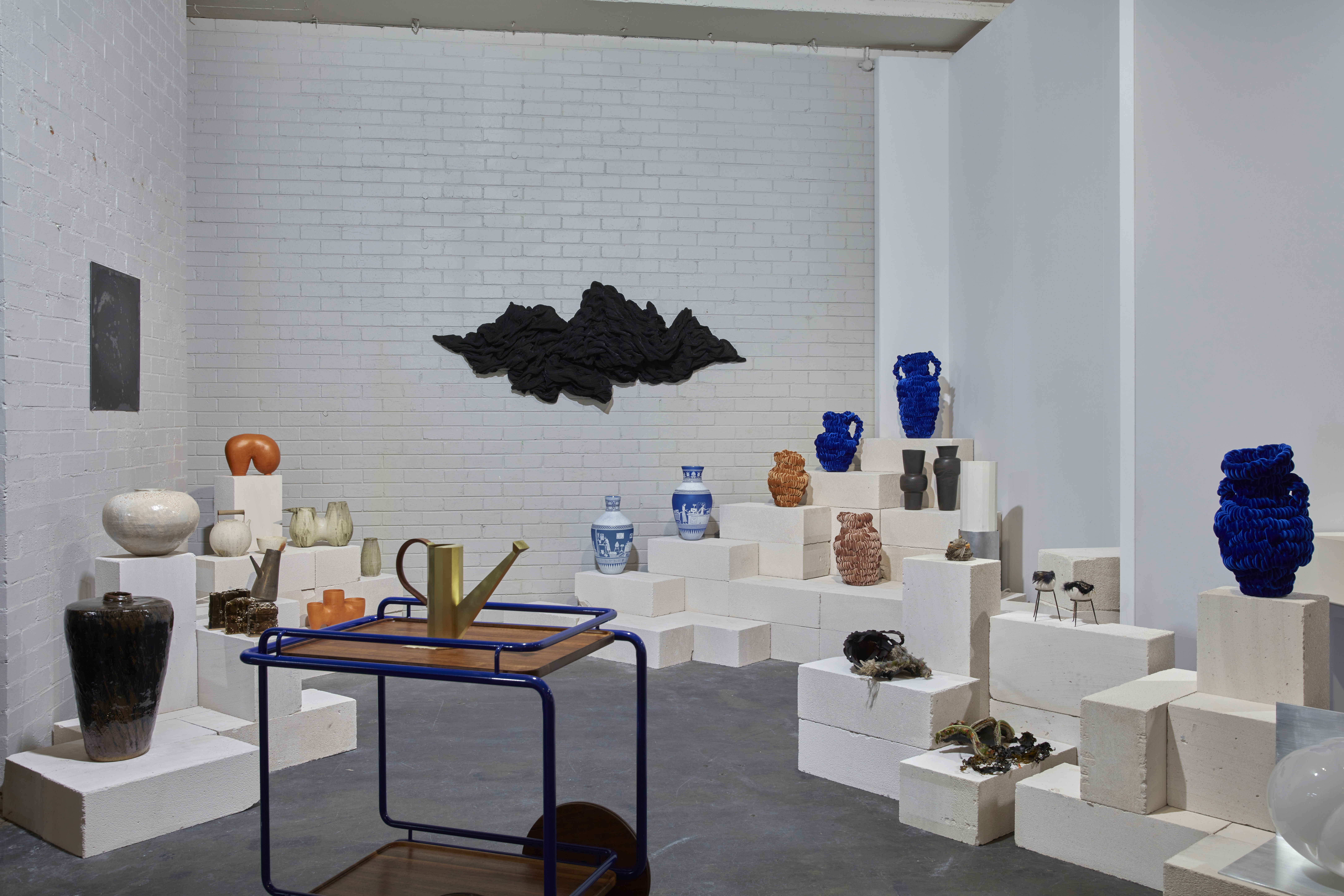 17th March, 2022 - Melbourne Design Week, Australia's leading annual international design event, returns for its sixth edition from 17-27 March 2022, with a dynamic program that will transform Melbourne and parts of regional Victoria over 11 days with a series of exhibitions, talks, films, tours and workshops, including the biennial Australian Furniture Design Award, the launch of the Melbourne Design Fair and a program of design showroom activations that respond to the theme 'Design the world you want'. ​
​​
​Two pillars – civic good and making good – provide a focused exploration of the main theme, with the thematic 'civic good' encouraging participants to think beyond the individual to serve the common interest and 'making good' exploring the impact of design beyond its functional or aesthetic impact to look at the social and environmental impact on the planet.
Extensive programming responding to the theme and addressing such issues as sustainability, technology, the circular economy and First Nations knowledge and thinking, will be activated at a host of hubs including the National Gallery of Victoria, RMIT Design Hub, Collingwood Yards, Scienceworks, MPavilion and Melbourne Connect, supported by a robust satellite program, including presentations by Open House Melbourne (Centre for Architecture Victoria), Melbourne Design Week Film Festival, Victorian Pride Centre and Melbourne Art Book Fair.
An initiative of the Victorian Government delivered by the National Gallery of Victoria, in 2022 Melbourne Design Week will run from March 17 to 27. For full program please visit designweek.melbourne. Proudly supported by Major Partners Mercedes-Benz and Telstra, and Design Partner RMIT University.
Melbourne Design Fair is a key event within the Victorian government backed Melbourne Design Week program, and the first of its kind in Australia to bring together designers, design organisations, agencies, studios and galleries with collectors to meet and do business over five days.
---
2022 PROGRAM HIGHLIGHTS
MELBOURNE DESIGN FAIR
The Melbourne Design Fair showcases the best collectible contemporary design from over 100 Australian designers and makers with presentations staged by leading commercial galleries, studios, design organisations, and agencies in addition to a highlight exhibition of works for sale curated by the NGV department of Contemporary Design and Architecture.
An initiative of the NGV presented in collaboration with the Melbourne Art Foundation, the Melbourne Design Fair is the first of its kind in Australia, breaking new ground in the presentation, promotion, and sale of collectible contemporary design in the region. It is an opportunity to discover and buy limited edition, rare and one-of-a-kind collectible contemporary design.
​​
​Melbourne Design Fair showcases design works across two platforms: PRESENT where commercial galleries, design organisations, agencies and studios from across Australia mount dedicated displays by the design creatives they represent, and SELECT, an NGV curated exhibition featuring the best works by emerging and established Australian designers and makers.
---
ZERO FOOTPRINT REPURPOSING PRESENTED BY REVIVAL PROJECTS
Almost half of waste worldwide comes from construction and demolition waste. To address this global problem, Revival Projects has set up one of the world's first free repurposing hubs in the heart of Collingwood to facilitate repurposing initiatives on an unprecedented scale. The 100 year-old, 1500 square-metre warehouse will be demolished in 2024 to make way for a new development designed by Grimshaw Architects that will repurpose the materials from this site. In the interim, Revival Projects has invited the design and construction industry to use the space to store demolished materials while associated developments come to life and repurposing becomes possible. For one special day, this warehouse is open to tours where visitors can visit the facility, learn about the materials onsite, and discover how designers, builders and clients can revolutionise the industry approach to repurposing. The tours will be followed by a talk hosted by Grimshaw Architects and Revival Projects.
---
MATERIAL CULTURE PRESENTED BY MARSHA GOLEMAC
This exhibition is a dedication to the ongoing evolution of 'material culture' – an attempt to expand on conversations surrounding why and how things are made, and what social, functional, or symbolic needs they satisfy. We're often presented with competing ideas of old versus new, as if there is not value in both. We see it in all facets of our everyday lives. But, what if we did away with that distinction? This exhibition offers a space for creatives, and guests alike, to imagine a world where yesterday's ideologies and tomorrow's innovations can coexist. Featuring the work of sixteen designers, makers and artists, the exhibition encourages participants to embrace traditional and ultra-modern techniques in object design. Each participant has created an object using a natural or cultural resource with a focus on tactility and materiality. Purposeful in nature, as defined by the participant, the object is a representation of the world they want to live in.
​​
​Participants include Abdé Nouamani, Peter D Cole, Fletcher Barns, Bianca Chang, Gabriel Aries Setiadi, Anna Pogossova, Jeremy Blincoe, Nicole Lawrence, Anke Kindle, Jacqueline Stojanović, Olivia Bossy, Tamara Maynes, Second Edition, Kasia Tons, Thomas Coward, and Livio Tobler.
---
THE CHAIRITY PROJECT 2022 PRESENTED BY CULT DESIGN
The Chairity Project 2022 sees 18 creatives from a diverse cross-section of design disciplines reimagine the iconic Result Chair, designed by Friso Kramer and Wim Rietveld for Ahrend in the 1950s, and now in production by HAY. The designs will be exhibited at Cult Melbourne, then sold at auction with full proceeds shared between five charities: Cancer Council, Australian Red Cross, St Vincent de Paul, Greening Australia and Gunawirra.
​​
​Participating creatives include designers Adam Goodrum and Tom Fereday, ceramics brand Mud Australia, architecture studio Akin Atelier, and artist Evi O. The full list can be found here. ​
​​
​The online auction runs from 17 March – 3 April, 2022. View designs and bid online at chairity.com.au
---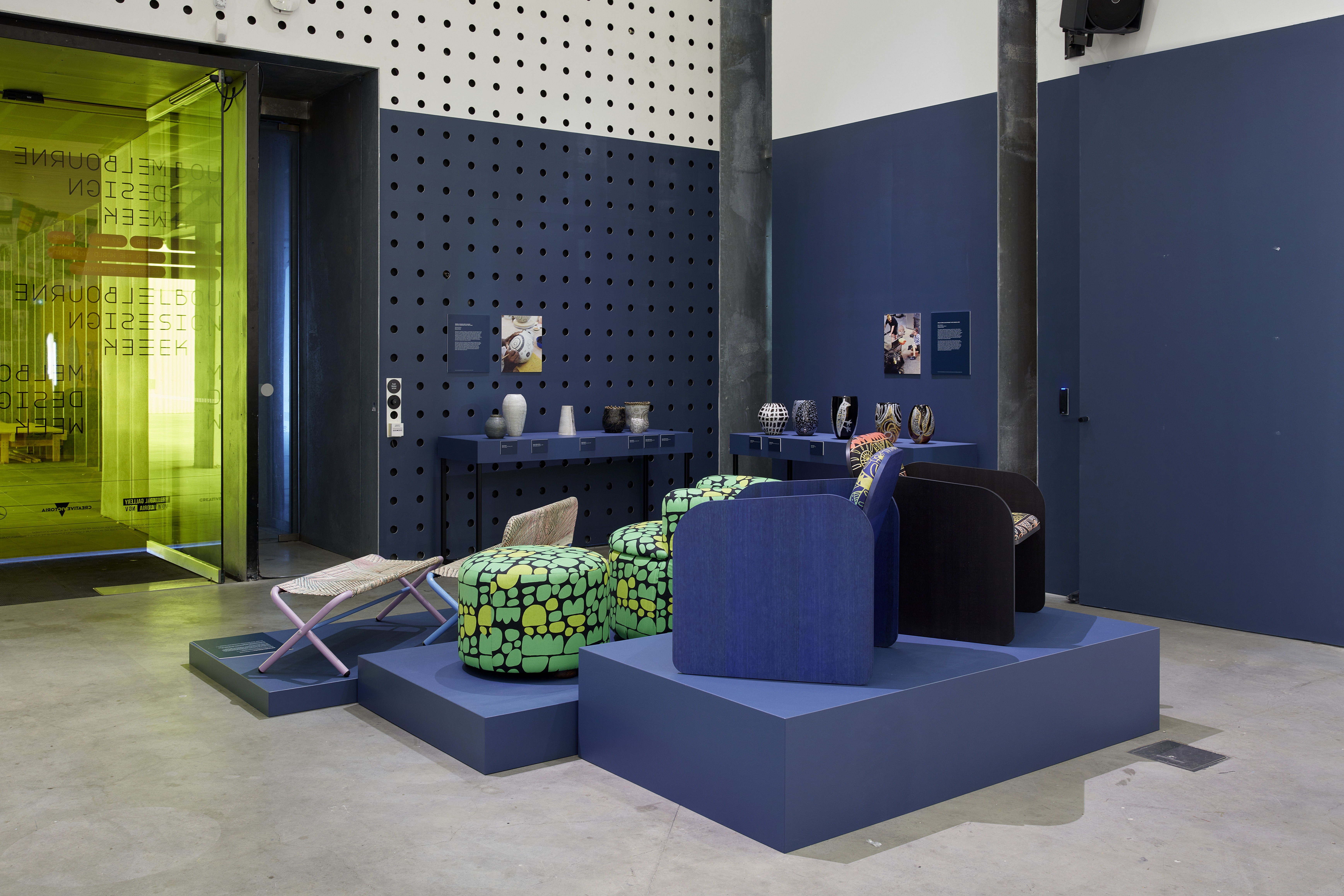 EXCHANGE PRESENTED BY JAMFACTORY
Presenting a selection of creative collaborations and workshops outcomes, this exhibition will showcase the vitality and diversity of Australian First Nations artists who have worked with designers and skilled makers at Jamfactory in various way to produce design objects across Jam Factory's four specialised studio areas – furniture, ceramics, metal and glass. These works offer new ways of engaging with First Nations material, culture and storytelling and speak to the rich possibilities of deeper, ongoing exchange.
---
ALTERNATIVE PROVISIONS PRESENTED BY CRAFT VICTORIA
Alternative Provisions presents the work of designers and makers expanding material practice as an act of making good. The exhibition explores how unexpected and underutilised materials, driven by the notion of reuse, are developed and used in interesting ways by today's makers. The exhibitors each forage for their material, whether organic matter or discarded waste product, to create works that offer production alternatives, as well as a means to tell new stories. By joining these makers in their search for more mindful provisions, we are led to re-evaluate how we engage with materials for production and the potential presented by seeking conscious alternatives. The exhibition joins the broader conversation on the environmental implications of human presence and the revaluation of our actions. Let's make good on our responsibilities to the environment through creative innovation.
---